STREAM THE BEST ENTERTAINMENT ON YOUR MOBILE DEVICE WITH DISH ANYWHERE
Become part of the DISH family & watch shows on the DISH Anywhere App, included with your subscription.
DISH Anywhere–Entertainment At Your Fingertips
The DISH Network Mobile app gives you the entertainment you're looking for at the touch of a button.
Use the device of your choice, like a tablet, smartphone, laptop or desktop computer.
Watch TV live, surf your favorite channels, program or change your DVR, and watch recorded programs.
The FREE mobile streaming app is available to all DISH subscribers at no additional cost.
Watching live and recorded TV anywhere requires an internet-connected, Sling enabled DVR and compatible mobile device.
Enjoy TV in Your Pocket with DISH Anywhere
With the DISH Anywhere mobile TV app, you can enjoy the convenience of entertainment on the go. Whether you're commuting to work, studying on the train on your way to school, traveling on a road trip or by plane, DISH has got you covered. DISH TV mobile app gives you the best entertainment wherever you go.
DOES DISH ANYWHERE WORK WITH ROKU?
While DISH Anywhere allows you to stream your favorite shows from just about anywhere on your mobile devices and other smart devices, it's currently unavailable on a Roku streaming device. Instead, you have two options when it comes to watching DISH on Roku:
Roku lets you mirror your device onto the streaming platform, so you can open your DISH Anywhere app, select a show, then mirror your screen.
Download your favorite channel apps on the Roku device, then sign into each channel app using your DISH credentials. Now, you have access to your favorite channels on your Roku device.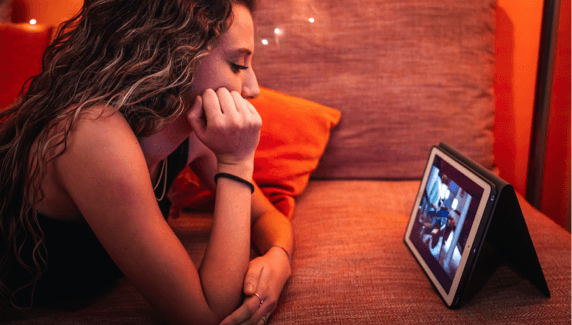 GET THE DISH ANYWHERE APP TODAY!
If you're a DISH subscriber, then you can get the DISH Anywhere App at no additional cost. With the DISH Anywhere App, stream your favorite shows and movies on the go or cast your DISH Anywhere App onto streaming devices such as the Amazon Fire TV Stick. Visit the Google Play Store or the App Store on your mobile device today to download the free DISH Anywhere app.
Check Out These DISH Anywhere Mobile App Features
Watch Live TV
Sometimes the best TV happens LIVE. Whether it's the big game, real-time weather updates, or breaking news, DISH Anywhere gets you the action right as it's happening.
Watch Recorded Shows
DISH Anywhere allows you to access the shows you've recorded on your DVR, pick up where you paused, and stay on top of your favorite programs on a schedule that works for you.
Watch On Demand
Get instant access to 1000+ On Demand movies and programs when you become a DISH customer.

Watch TV Offline
Transfer your DVR recordings to your mobile device and watch your favorite programs offline, anytime.