Satellite Cable Television in Phoenix, AZ

"DISH has consistently great service, and they don't nickel and dime you."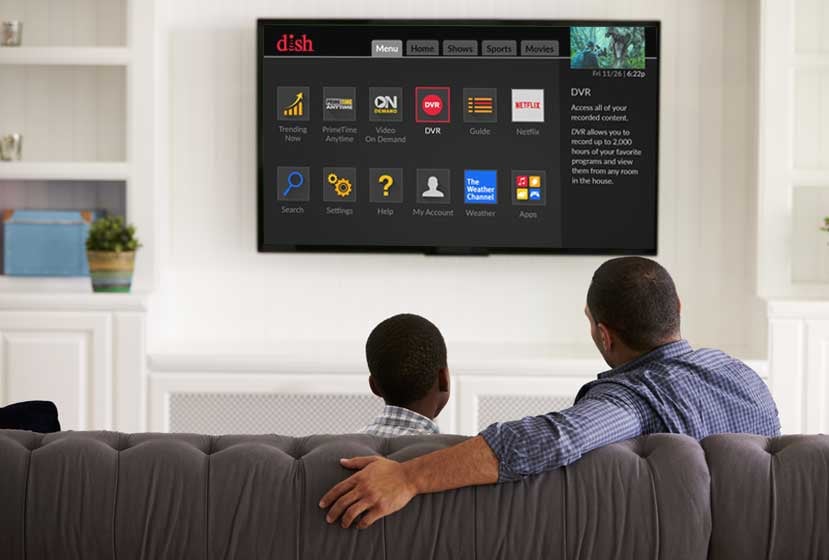 Switch to DISH for the Best Value in TV
Includes 30+ premium channels for 3 months
Ranked #1 in Customer Service by J.D. Power
More DVR Storage than any other TV Provider
FREE Voice Remote, & DVR Included
INCLUDES NFL Redzone, get more football!
All Package Prices Guaranteed for 2 Years
America's Top 120

190 Channels

America's Top 120+

190+ Channels

Limited-Time Offer:


NFL RedZone &
NFL Network Included

America's Top 200

240+ Channels

Limited-Time Offer:


NFL RedZone &
NFL Network Included

America's Top 250

290+ Channels

Limited-Time Offer:


NFL RedZone &
NFL Network Included
Multisport package with RedZone included until 1/3/19 with packages starting at $69.99. New and qualifying former customers only. All offers require 2-year commitment with early termination fee and eAutoPay. Prices include Hopper Duo for qualifying customers. Hopper, Hopper w/Sling or Hopper 3 $5/mo. more. Upfront fees may apply based on credit qualification. Fees apply for additional TVs: Hopper $15/mo., Joey $5/mo., Super Joey $10/mo. After 3 mos., you will be billed $30/mo. for Showtime, Starz, and DISH Movie Pack unless you call or go online to cancel. Offer ends 11/14/18. SHOWTIME is a registered trademark of Showtime Networks Inc., a CBS Company. STARZ and related channels and service marks are property of Starz Entertainment, LLC. DISH received the highest numerical score for customer service and second highest score for customer satisfaction among national TV providers in the J.D. Power 2017 U.S. Television Service Provider Satisfaction Study, based on 18,685 total responses, measuring the experiences and perceptions of customers with their TV service provider, surveyed November 2016-July 2017. Your experiences may vary. Visit jdpower.com. Netflix is currently available on Hopper Duo, Hopper, Hopper w/Sling and Hopper 3. Live or Recorded TV anywhere requires a Hopper w/Sling or Hopper 3.
DISH Service in the Phoenix, AZ Area
Cable TV Packages in Phoenix
Whether you're looking for great value for your whole family, 24/7 sports coverage, or all the movies you can possibly watch, DISH has you covered. Compare our standard packages
here
or
shop by channel
to find the best fit for your whole family.
Local channels in Phoenix, sports packages & more
Your favorite cable TV channels, and so much more
DISH offers more programming for your dollar, gives you more ways to watch it, and tech that gives you even more opportunities to enjoy.
DISH is #1 in Customer Service
No, that's not an exaggeration. DISH was ranked
number one nationally
in customer service by the renowned market research company J.D. Power, as well as our customers. Need further proof of our commitment to our subscribers? Learn more about our
24/7 customer
support capabilities. We know that you expect the most out of the dollars you spend for satellite or cable TV, and that's why we take pride in saying that we're
Tuned Into You
.
Moving? Get TV in Phoenix with DISH.
If you're packing up and moving to Phoenix, you'll need cable service so you can watch TV when you get there. DISH has you covered. Get up to 290 of your favorite channels and TV packages that provide more value than comparable cable packages. Our professional technicians will install satellite TV in your new home free of charge. We can also mount your TV, get your home entertainment system set up, and even configure your wifi network*. We take some of the pain out of moving and turn it into TV enjoyment. Learn more about how DISH can make your move to Phoenix better
here
.
*Additional charges may apply.
TV and Internet Bundles in Phoenix
DISH has more than just satellite or cable TV. You can also get high-speed internet or home phone service, and you can combine them with your TV package for an even better experience. Browse the web with high-speed internet and take your DISH TV service to the next level when you connect the award-winning
Hopper 3
to the internet. If 290 channels aren't enough, you can also watch
Netflix
or
YouTube
on your TV without switching inputs. Explore bundling options in Phoenix
here
.
About DISH Network in Phoenix, AZ
DISH is a leading satellite TV provider serving the local Phoenix area, featuring your favorite channels & programs. We can get you connected with amazing TV technology like the Hopper®, the most advanced whole-home HD DVR available in Phoenix and throughout the US. Enjoy a line-up with more than 200 national HD channels, the most International channels, even award-winning HD DVR technology. We offer the best technology and customer service in television, and at a great value. With DISH, you get great cable television service available everywhere you go in Phoenix, AZ. Change the way you watch TV with your favorite shows and channels available right on your mobile device. Are you ready to experience true television freedom? Order online or give us a call to find out how we can help you today.

Find DISH services in areas neighboring Phoenix, AZ. The #1 provider of quality satellite cable TV can be found nationwide. Watch everything, go anywhere.