DISH is rolling out a new user interface, Carbon, as the latest upgrade to the Hopper DVR. Unveiled at this year's Consumer Electronics Show, the new interface incorporates user feedback that asked for better search capability and visibility. The Hopper has a new look that makes it easier than ever to find the shows you want, while preserving the functionality of previous versions. The new interface borrows features from today's smartphones, making it a familiar experience for users. Here are a few of the outstanding characteristics of the latest Hopper user interface.
Updated flat design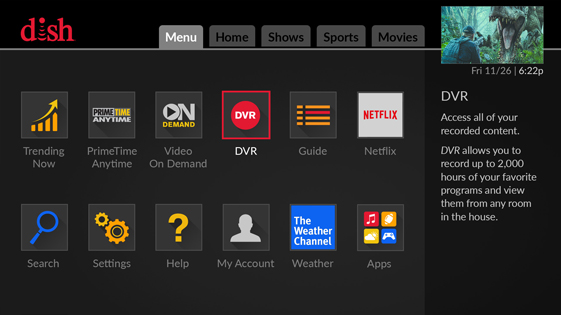 The Carbon interface adopts a flat-screen design modeled on that popularized by smartphones and tablets. A simplified, clean design features large buttons and highlighted tabs that make it easy to see your options at a glance, and bright-colored icons and highlighted text make it easy to read your options.
Smartphone-style remote
Navigate through your options easily by using the Hopper Voice Remote, a smartphone-sized remote that comes with voice control and touchpad features along with a simplified 17-button interface. The Hopper Voice Remote is included with all Hoppers and 4K Joeys. For users who prefer a more traditional remote, a Hopper Standard remote will be included with other Joeys.
Home Page help
The Carbon interface adds a Home page tab to help you orient your searches. Your home page appears as one option alongside tabs for Menu, Shows, Sports and Movie options. On your home page, you'll see picks recommended for you, along with icons representing shows you recently recorded. Highlighting a recommended pick displays its information in a sidebar on the right side of the screen.
Improved search capability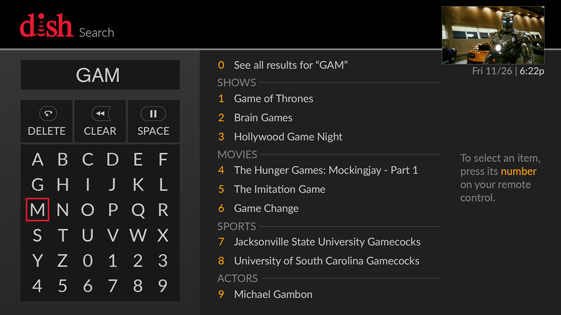 Carbon's enhanced search capability makes it easier to find shows to watch. In addition to an on-screen guide organized by channel and time, you can do quick text searches for movies. With the autocomplete feature, you can find most shows by entering just three letters.
Recorded show lists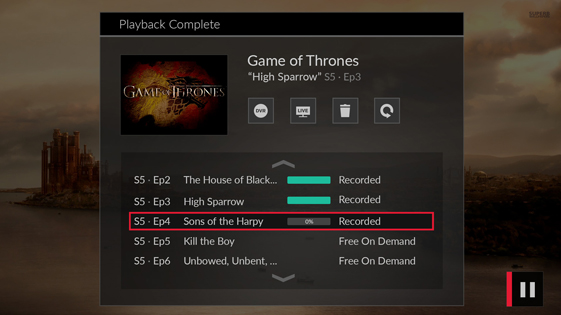 Want to watch a Game of Thrones marathon? The new interface lets you pull up a list of episodes of shows you've recorded, along with other episodes available On Demand. You can sit back and watch all the episodes of your favorite shows in sequence, just as if you were viewing a YouTube playlist.
Enhanced movie info
Highlight a movie you're considering watching, and you'll get detailed information to help you decide whether or not to watch. Tabs also provide you with a summary, reviews and a parental guide.
The summary tells you basic details about the movie, including its title, year of release, rating, recommended age level, category, length, stars and a plot summary. Summary view also shows you other movies you might like in the same category.
The reviews tab lets you know what other viewers thought of the movie.
An expanded parental guide provides a detailed analysis and breakdown of the movie to help you decide if it's age-appropriate, including information about the film's educational value, positive role models and messages, depictions of sex and violence, language, and depictions of drinking, smoking and consumerism.
Adjustable view
Sometimes on-screen guides can be hard to read. The new Hopper interface solves this problem by letting you adjust font size. You can toggle between normal and large text size.
Help anytime
The Carbon interface is intuitive, but if you need additional assistance, an on-screen help menu is available. Just press the # button to bring up a menu with information about how to record, view schedules, manage your timers, and view and recover recently deleted recordings.